Thank You! so very glad I found your shop!!!!! :-)
KIMBERLY W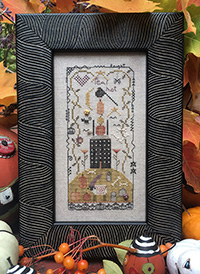 THIS SECTION IS DEVOTED TO OUR RECENT STITCHED SHOP MODELS
We add approximately 4 to 6 new models every other month to our ever growing collection. These are the current New Shop Models that we have added in our shop. We do not always stitch designs which are new, just whatever strikes our fancy. Because a pattern is old doesn't make it any less attractive. If the pattern is still available, after stitching, we then feature it as a New Shop Model on our walls.
If you like the way our shop models look, we now have added a feature that you can purchase the pattern or kit packaged by the manufacturer. You are ONLY purchasing the materials to make the design, not our finished model. These models are in this section for approx. 6 months than move to our Shop Model Tab listed under Book & Charts so you can still continued to view until the patterns or kits are not longer available.
Hope you like our selections!
Updated September 28, 2021
---
---
| | | |
| --- | --- | --- |
| Item Information | Click on the Item Name for more detailed information. | Purchase Options |
SHOP MODEL-PETER & PEEP
When I looked for some Spring and Easter designs to stitch - I found this cute design from Country Stitches that I just love. Even though it features a bunny and chicks, it doesn't scream Easter and can hang on the wall straight thru until Fall. I stithed this on 32 Ct. Vintage Country Mocha and used Sampler thread. Isn't it cute!

SHOP MODEL-SLEIGH RIDES AND SNOWFLAKES
As I stated previously, I looked for designs for Winter rather than all snowmen that I usually pick for Winter stitching. When this design arrived in our shop from The Scarlett House, I immediately added it to my stitching pile. I loved the house, and the little red accents on the bottom garland, just give it that extra touch. I stitched on 32 Ct. Vintage Pearled Barley Linen and used the Sampler Thread. My frame is a custom dark cherry which brought out the colors nicely. This was the last Winter project that I complete this year

SHOP MODEL-HEART OF HEARTS ZIPPER
When this kit came into our shop - I thought of Valentine's Day. It was a fast stitching project done on 18 Ct. Linen - all supplies are included in the kit. I frames with a red frame

SHOP MODEL-LOVE & CARROTS
I always love the words by The Cross-eyed Cricket and found this design for Valentine's that is done in shades of peaches instead of the traditional reds. I stitched it on 32 Ct. Vintage Autumn Blush Belfast Linen using the recommended silks and DMC floss. I framed in a cherry frame to bring out the colors

SHOP MODEL-A SUMMER PLACE
I never stitch the same thing twice, but I made an exception. I originally stitched this design on Summer Sky Jobelan and everyone loved the look. However, when we got in the Sand, Sea, and Sky Evenweave from Fabric Flair, I scouted around and found Sweet Retreats that everyone just loved. So I looked around again, and found this design - and thought, oh well, lets give it a try. So I re-stitched it on Sand, Sea, and Sky Evenweave and again, there was an overwhelming response. It give the house the look of being on the beach with the sea behind, and the beach chairs are on the sand. Needless to say, I took the other one home, and this one adorns our shop wall. Hope you like it.

SHOP MODEL-CHRISTMAS BRANCH
I choose this design because I stitched the Halloween Branch and it was so much fun. This is a three piece design - you need all three patterns to complete - I used the hand-dyed flosses and 28 Ct Amber Linen. It was a hit in our shop

SHOP MODEL-DELIVERING A FEW OF MY FAVORITE THINGS
Due to the fact that I stitched a Haunted house and it took so long to finish, I chose fast designs to add to our Christmas Collection and this design from Homespun Elegance filled the bill. I used Cashel Raw/Opal Linen and the recommended flosses. I did use different charms

SHOP MODEL-DEAR SANTA, I CAN EXPLAIN
Since I had this frame hanging in the shop, I decided to do this Lizzie Kate design that fit the opening. I sued 28 Ct. Natural Linen and the recommended flosses - Isn't it cute. The frame is from the Sweetheart Company

SHOP MODEL-SEASONS GREETINGSS
This oldie is from Bent Creek and worked up fast and would make a nice gift - I stitched this design on Ivory Jobelan using the recommended floss

SHOP MODEL-MERRY BE PINCUSHION KIT
I loved this design and decided to stitch and frame rather than make into a pincushion - all supplies are included in this kit

SHOP MODEL-DELIVERING PEPPERMINTS & CANDY CANES
Another nice delivering design from Homespun Elegance - this time with an owl pulling a cart of candycanes - I stitched this design on 30 Ct. Mink using the recommended floss - the frame was a premade that I purchased from one of the chain stores because I wanted this framed before the holidays and the company that supplies our frames was closed

SHOP MODEL-THE BUZZARD'S ROOST
This is the design that took me over a month to complete - it's from Praiseworthy Stitches. I stitched it on 32 Ct. Ale Lugana from Picture This Plus using the recommended floss and added the buttons.

SHOP MODEL-UBER CHRISTMAS TREE
This design from Bent Creek is one that I called a car project. I only stitched when we were traveling somewhere by car. I did stitch it on the 18 Ct. linen using DMC floss rather than Pearl Cotton - the little elves have jingle bells on ther hats. Sometimes I have projects on large count linen that make a great take-a-long, They are easy to see when stitching in a car. It might take longer to complete, but you end up with a nice project when you least expect it.

SHOP MODEL-ALL STACKED UP TURKEY
I usually like to do a design during that season - this one called out to me in November because of the turkey - Isn't it cute. I used the recommended floss and stitched on 18 Ct. Lambswool Linen. The pumpkin button came with the pattern

SHOP MODEL-SPOOKY HALLOWEEN MANTLE
Bent Creek has a series of Mantle designs. Since I stitched the Christmas Mantle and Snowman Mantle last year, I decided to to the Halloween Mantle this year. This comes as a three part kit - the first piece includes the 18 Ct. Linen and floss needed, and each of the other kits includes floss and buttons. One of my customers showed me her finished piece, and that inspired me to stitch this piece

SHOP MODEL-THE HAUNTED HOUSE
As you can see - I do like Bent Creek and since last year I stitched their Christmas House and Garden House - I thought a good addition would be their Haunted House. I stitched it on 28 Ct Dirty Cashel Linen using the recommended floss. As I said, I like to do designs during the season, and this one was stitched in October - my last Halloween stitched piece was the large Buzzard's Inn which I finished a week before Christmas. I really wanted to stitch a haunted house, and because I picked Halloween designs that were in pieces, I needed to complete those first. Needless to day, I did finish everything that I wanted to do - now next year we will have some wonderful designs on our wall

SHOP MODEL-ANOTHER DAY IN PARADISE
I was in a summer mood when I chose this design to stitch. Since most of the Imaginating designs call for white fabric, I picked this uique fabric from Fabric Flair to stitch my design on - the finished look is 3-D with the ocean behind the cabanas. It has been a real hit in our shop - Hope you like my choice. It uses DMC floss

SHOP MODEL-GARDEN PARTY LADYBUG
Since it was summer, I looked for design for the season. I had stitched the Dragonfly in this series, so it was only fitting that I do the Ladybug. This design includes all the floss, so I used the recommended green fabric from Lakeside Linens only stitching on 32 Ct. so it would fit the pre-made Mill Hill frame. - Now available as a chart pack set of 4

SHOP MODEL-STRAWBERRY HOUSE
This design was from Little House Needlework and since I stitched a Strawberry Sampler, I wanted to keep the theme. This little house stitched up fast and I used the recommended floss and fabric

SHOP MODEL-FRUIT SERIES - STRAWBERRIES
Another design from Little Hose Needlework, this time the floss is included so I only had to provide the fabric. I was on a strawberry kick and this fit the bill - I fit into a pre-made frame Note - the book contains all 12 Fruit designs that were previously only offered as thread kits by Little House Needlework

SHOP MODEL-TINY TULIPS KIT
When this kit arrived from The Sweetheart Tree, I fell in love with the look - so I added it to my stash. When I finished the strawberries, I found time to add the tulips. It finished up quickly and was enjoyable. I custom framed.

SHOP MODEL-A BUZZ FOR BLACKBERRIES
Again, once I stitch something and really enjoy it, I always look for another design from the same designer. I found this kit and since I had done another blackberry design a few years ago, I felt this was a good addition - again nothing too hard, and fast stitching

SHOP MODEL-SANDCASTLE BAY
I have just loved the houses and scenes from Praiseworthy Stitches. They are fast to stitch, and even with only an hour to spare it looks like you finished something. This design fit into my summer stitching - I used everything that was listed - the Lakeside Linens Vintage Agua, and all the hand-dyed flosses. I custom framed in a rustic wooden frame

SHOP MODEL-EDEN'S LAMENT PIN CUSHION KIT
Sometimes when people see the word pincushion or needleroll - they pass on the designs. This was suppose to be finished as a pin cusion, but as you can see it looks lovely framed. I used everything that came in the kit to stitch this design, except the ribbon for the edging. I will use that on something else As you can see I've been busy this summer and are still stitching strong. New models will be posted sometime in October

SHOP MODEL-OUT ON A LIMB
This is a design from Silly Snobs and I decided to stitch on Jobelan Summer Sky so the backgound has a little cloud appearance. DMC was used for all stitching. We have a cat display in our shop and this is our newest addition

SHOP MODEL-SANTA'S MIDNIGHT FLIGHT
When this design arrived in our shop, it was too beautiful to pass up. I stitched as stated in the directions on fabric from Picture This Plus. It became a real show stopper.

SHOP MODEL-GIRLS NIGHT OUT
This past Halloween Just Another Button Company came out with this design and it was a hit in our shop. The design includes the buttons, you provide the fabric and floss. I stitched on a Weeks hand-dyed Purple using the hand-dyed and DMC floss recommended. We did custom frame

SHOP MODEL-SWEET RETREATS
This past summer for some reason I got hooked on Nautical designs and this design from Imaginating took my eye - I elimated the verse that said "Welcome to my Beach House" as I don't have a house at the beach, but I just loved the houses and sandcastle on the beach. I stitched on 28 Ct. Antique White Jobelan using DMC floss.

SHOP MODEL-ALL MY LOVE KIT
This kit from Shepherd' s Bush was a fast stitch - it was done on 10 Ct. Tula and accented with a flower button. I put it in a pretty frame to give it a little added spice.

SHOP MODEL-WINTERY SNOWGLOBE MANTLE KIT
Since I loved the Christmas Mantle from Bent Creek, I decided to stitch the Snowglobe Mantle. Again this design was very enjoyable as you stitch on 18 Ct. Linen using Perle Cotton and DMC floss. Nothing hard and the results are great. Beads accent. All materials are included in the kits You will need all three pieces to complete this design

SHOP MODEL-GREEN +WHITE
Since St. Patrick's Day was coming up, I thought we needed something new in the shop - so I found this fast design from Bent Creek. I stitched it as recommended by the designer

SHOP MODEL-WINTER IS CHILLING
This cute little piece was a kit from Shepherd's Bush again a fast stitch as it was done on 10 Ct. Tula. I needed something that would not take long as I had just finished the Snowglobe Mantle. That shop model will be posted once it is framed.

SHOP MODEL-SANTA'S GOT THE GOODS
This year's Santa is holding presents and Trudy also stitched this model. She was on a roll and found this green pre-made frame that fit just right.

SHOP MODEL-PEACE, HOPE & LOVE
This is the matching piece to the Gift of Peace. Again I was intrigued and featured this on my home page, so I had to stitch this design as a model. It was stitch on the 28 Ct. Antique White Jobelan just like the other piece

---