"Wow so quick on delivery and she even included some free charts with my order. I will definitely be ordering from this shop again and gave it a recommendation on my cross stitch Facebook page, thanks again!"
Laraine S.Z.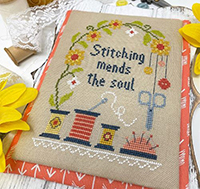 A total of 75 records matched your search.
Click on the thumbnail image for a more detailed image and information.
---
The following floss codes are provided to assist you in making your pattern selections

A=Anchor
D=DMC
C=Crescent Colors
RW=Wisper
P=Pearl Cotton

K=Kreinik Metallics
I=Impressions
T-M. H. Treasures
R=Rayon Floss
M=Marlitt

WC=Watercolors
WL=Waterlilies
WF=Wildflowers
B=Mill Hill Beads
S=Sampler Thread

N=Needle Necessities
W=Weeks Dye Works
RG=Rainbow Gall. Threads
NPS=Needlepoint Silk
BS= Belle Soie
 
| | | |
| --- | --- | --- |
| Price: $8.50 | Price: $24.00 | Price: $13.00 |
| Price: $20.00 | Price: $10.00 | Price: $10.00 |
| Price: $10.00 | Price: $10.00 | Price: $10.00 |
| Price: $18.00 | Price: $20.00 | Price: $12.00 |
| Price: $12.00 | Price: $12.00 | Price: $28.00 |
| Price: $10.00 | Price: $10.00 | Price: $10.00 |
| Price: $15.00 | Price: $10.00 | Price: $38.00 |
| Price: $38.00 | Price: $10.00 | Price: $22.00 |
| Price: $16.00 | Price: $8.00 | Price: $14.00 |
| Price: $15.00 | Price: $32.00 | Price: $16.00 |
| Price: $15.00 | Price: $12.00 | Price: $14.00 |
| Price: $15.00 | Price: $15.00 | Price: $15.00 |
| Price: $15.00 | Price: $15.00 | Price: $15.00 |
| Price: $15.00 | Price: $18.00 | Price: $20.00 |
| Price: $12.00 | Price: $14.00 | Price: $20.00 |
| Price: $10.00 | Price: $40.00 | Price: $20.00 |
---