What a great web site! I always find just what I am looking for. Thank you! Sharon
Sharon Sullivan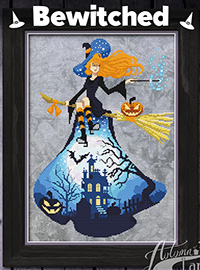 October 2021
Autumn has arrived! The trees are now starting to turn their lovely Autumn colors and the weather is getting cooler. So now is the time to think about your holiday projects. For those of you who live locally and enjoy our finishing services, Donna, our finisher, is going to retire at the end of this year. So we will need any item that you want finished for Christmas before Thanksgiving. I know we will all miss Donna, and wish her well - she has been finishing items for our shop for over 25 years.
As all of you aware, the supply chain for many products such as getting a new car, perhaps you needed a new large appliance or needed to order furniture, it is taking months to arrive. When Covid first hit, and everything was shut down, so it was understandable, but now the slowdown is due to cargo ships stuck in the ocean. Why am I saying this - well it is hitting our industry. Fabric has been coming into our country by cargo ship, so now hand-dye companies are being impacted with delays in receiving base fabric for them to dye. As of this writing, both Lakeside Linens and Picture This Plus are out of 40 Ct. Linen. Picture This Plus is also out of 32 Ct. Linen and 28 Ct. Lugana. As their fabric runs out, they are just sitting tight waiting for more to arrive. Neither company has any idea when that will happen, so the 6 to 9 months wait could take much, much longer. As we tell everyone, plan ahead or pick a different fabric. Both of these companies are dying 6 days a week, yet cannot seem to get caught up. Once fabric arrives in our shop, we ship the same days unless there are credit card issues where we need to contact the customer. If you decide that you do not want to wait for a fabric or other back ordered item, a simple e-mail or phone call works. Then we can give the item to the next person on the list.
Regarding shipping - we use USPS as our exclusive shipper. Again, I want to state, once we ship a package, any issues need to be directed to USPS. If a package gets stuck, there is no way we can go to that post office and move it along. Call you local postmaster - they have a way of looking up the package and contacting the location where it is stuck to move it along. Also, you can file a complaint on the
USPS website as well as set up e-mail wit updates daily once they scan your package. So between removing mail boxes and sorting equipment from many locations across our country, the USPS has recently changed how they handle all first class mail and are changing delivery time to 5 days. The reason I am stating this is beau se the holidays are fast approaching, and last year December deliveries were a disaster as they sat in post offices for weeks waiting to be sorted. Again, plan ahead to avoid any disappointment or stuck deliveries. We all need to work together to wether this storm.
Lastly, for those of you who are waiting for patterns from Annie Beez Folk Art - the designer's husband passed recently from Covid. She will be sending in our orders once she handles her affairs. Please keep her family in your prayers. We have had other designers who lost family members as well as had the disease themselves. Please get vaccinated, if not for your self, for others that you care about. Life is too short!
Now on to some of the new releases that arrived this past month:
Butternut House Pinkeep is from STACY NASH PRIMITIVES- also released is Jack-o-Lantern Sewing Pocket & Chatelaine, Boo to You Pinkeep, and First Snowfall Sampler Pinkeep

****

From SERENITA DI CAMPAGNA comes these releases - Un Cuore In Fattoria (A Heart on the Farm), as well as Halloween Labels, Giochi D' Autunno ( Autumn Games), and Halloween Life

****
Gnome Stregone (Witch Gnome) is by Alessandra Adelaide - also released is Compass, Fiore Della Sopresa, Storm, Gli Angeli Dannon La Coda, Halloween Gallery - Landscape, and Echo of the Mind

****

THE NEBBY NEEDLE presented Pumpkins Please, Pumpkin Spice Life, and Shinning Star/Twinkle
STITCHING WITH THE HOUSEWIVES presents November Calendar Crate, as well as Mrs.. Claus Bakery, and Silent Night

****
Bewitching Pixies - Witching Hour is from NORA CORBETT, other releases are Bewitching Pixies - Masqued Mischief, and in the Zodiac Girls series - Libra, Sagittarius, and Scorpio

****

Happiest Halloween is from THISTLES, also released are 12 Weeks to X-mas, Broom Keeps, The Snowmen Wish You, Give Thanks,

and Cool Wishes
| | |
| --- | --- |
| | SUSANAMM CROSS STITCH presents Happy Turkey, as well as Ewe and Birds and more hearts |
Tiny Mittens 1 is by FRONY RITTER DESIGNS, other releases include Tiny Mittens 2, Tiny Mittens 3, Bright Book Lover's Santa,

and Rustic Book Lover's Santa

Christmas Ornament Blue Silver Ball is presented by ARTMISHKA CROSS STITCH, also released was Hydrangea, and Happiness

****
2021 Halloween Club 3 is presented by SHANNON CHRISTINE DESIGNS, also released was 2021 Halloween Club 1, and Halloween Club 2, as well as 2021 Christmas Club 1

****
Gatekeeper by LITTLE STITCH GIRL, as well as Simply Sayin' September

****

Lady Halloween is from JARDIN PRIVE, other releases include Composition Florals 2 and Composition Florals 3

****

NEW MILL HILL BEADED HOLIDAY KITS presents Gingerbread Chalet, Gingerbread Lad, Gingerbread Stocking, Gingerbread Lass, Gingerbread Tree, and Gingerbread Cabin

****

PUTINI PUTINI released Sweet Holidays,

Halloween Trio, Halloween Alphabet - E/F,

Do Not Open "Til Christmas, and

When I Think of October, November, and December

****
Beware The Pumpkins is presented by a New Designer - FROG COTTAGE DESIGNS as well as Seasons Of Joy, Merry and Bright, October 31st, Prim Alphabet, Too Cute To Spook, Merry Christmas, Share Laughter, Aussie Christmas, Santa and Friends, Gingerbread Lane, No Bones About it, Spooktacular, and many more

****
IT'S SEW EMMA released Quilty Barn Mix and Match, plus Bee In My Bonnet Stitch Cards - Set J, and Sew Happy

****

FOX AND RABBIT DESIGNS released Lady Queen, Lady Who Lunch,

Cat Magic, Mary Morgan, and Susan Farqharson

****

Bubbles Under The Sea is by LUCY BEAN who also released Tomato Tomato, Summer Under The Sea, Disturbed Women and Be Groovy

****

HERITAGE CRAFTS presents Golden Years - I Wouldn't Change You, and William's Present

Plus new bead colors from Mill Hill that glow in the dark -

Aqua Glow, Green, Glow, Yellow Glow, Crystal Glow,and Ice Glow

as well as new fabrics from Fabric Flair - Snow on Aqua

in 32 Ct. Linen and 16 Ct. Aida

Always check our What's New through out the month - new items are posted as they are released.

****

15 Tiny Garden Biscornus by JUST NAN and also released is

a new Stitchy Witchy Mouse Limited Edition,

and Cobweb Fancy Trim Needle Case

****

Flakey Friends - Holiday Chums is from C. M. DESIGNS, other releases include Quilt Collection Starstruck, Round Rocks,

Tentmaker Smalls - The Pumpkin Patch, Ribbon Wrapped Stars,

and Of Mice and Snowmen

****

HEARTSTRING SAMPLERY added Merry Birds and

Christmas Bells Sampler

To All A Good Night is by Kooler Design Studio released Garden Reflections, Garden Gifts, Jolly Santa, Baby Toucans, Family Signs Family Tree, Iris Portrait and many more

****
FOR THE KIT LOVER COMES THE FOLLOWING:
(More kits from Permin, and other will be posted in the coming weeks)
MEREJKA released Happy Holidays Kit

****

LANATE released Fluttering Butterfly Kit

****
Currently our Retail Shop will continue to be opened ONLY on
Thursday & Friday from 12:30 to 6 p.m.
and
Saturdays from 11 to 3 p.m.
If you see something on our web site, it is always best to jot down the code number, title, and designer -
descriptions do not help us to find the item since we have over 4500 titles in our store at all times - many having the same names.
Also, with having a web site, items do sell out but can be ordered special for you as long as we have a code number.
For anyone who cannot muster our front steps, we do have a side entrance,
just let us know once you arrive, and we will gladly open the door for you.
Chairs are positioned throughout as well for anyone who wants to sit and browse through our racks and baskets of patterns.
We want to make your shopping experience pleasant and enjoyable.
Please direct any questions or comments through our e-mail - yeoldecs@comcast.net
or give us a call. We love hearing from our cross stitching friends.
Until next month,
Mary & the Staff of Ye Olde Cross Stitchery
Dates to Remember (upcoming)- Mark your Calendars
2021 - Major Holidays that we will close the day before or after include: New Year's Day, Easter, Mother's Day, Father's Day, Memorial Day, July 4th, Labor Day, Thanksgiving Day, and Christmas Day. If there are any changes to this schedule, we will notify by sending an e-mail to all on our mailing and will post a note on our shop door. If you intend to visit our shop prior to any of these days, please call before venturing just to be sure that we are open - no one wants to make a useless trip.
In Shop - Holiday Framing and Sewing cut off is the weekend before Thanksgiving. No exceptions. This schedule enables our framer and seamstress time to finish your items in time for Christmas. We can take in framing after Thanksgiving, but cannot guarantee holiday delivery. The same goes items that need finishing. We all want to enjoy the holidays - so plan ahead to avoid any disappointments. ***NOTE: Donna our finisher is retiring at the end of this year. Please get in all finishing as soon as you can to avoid any disappointments. Donna has been finishing our items for over 30 years and will greatly be missed. We will be using a new finisher after January 1st.