This shop is incredible!!! Floor to ceiling, wall to wall, jam packed with awesome cross stitch supplies, patters, etc. Finished cross stitch pieces, crafted by the owner, EVERYWHERE!!! When I walked in, I felt like I had died and gone to cross Stitch heaven!!!!
Rachel S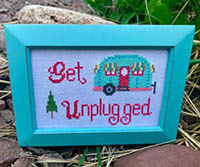 These Linens are hand-dyed using dyes make specifically for textiles. These fabrics are color-fast and light-fast. Each color is available in "Regular" and "Vintage" which has a more distressed appearance. Since this fabric is hand- dyed, no two pieces will ever be alike, and colors can vary. Double Dye colors are a two dye process and are slightly more expensive
Please allow extra time when ordering these fabrics.
---
---