I just received my order in the mail today. Oh Boy! Everything is just beautiful. I recently started to do cross stitch after putting it on hold for a few years. I met a man (!!!!) in the stitchery department in ACMoore a few weeks ago, and he told me about you. Actually, he raved about your store. So, I looked you up on the internet, and took a chance. Was that man ever right! I can't wait to start stitching, if I could only decide where to start. Wish I had more than one pair of hands, but then, what woman doesn't? I'll be watching the mail for the back-ordered item. Just wanted to let you know how happy I am. I live about 35 miles northwest of you in the Lansdale/North Wales area, so perhaps I'll visit one day soon. Many Thanks,
Sophia DeLuccia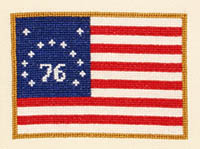 LUGANA - 20 COUNT
52% cotton and 48% rayon Evenweave fabric
Special order fabics are marked with an (SO). Currently we have stock of these colors. However, these are the fabric colors that are not popular. Since Zweigart has a minimum production run, as our stock runs out, they might come back into stock as a hand-dyed solid fabric color.
---
---