I am SO impressed with your website, and in particular the way you can see colours of all linen and thread, and the ability to order the small size cut of linen. Linen has become very expensive and most of us can't justify (or afford) the 1/2metre cuts, and yet the new overdyed shades are too tempting! So thanks for making it possible for me to try them.
L. Devaney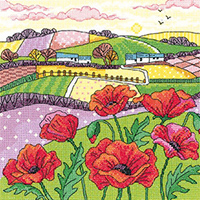 18 COUNT AIDA
100% Cotton evenweave fabric known as Ainring or Pearl Aida. Very fine block equivalent to 36 count linen
The fabrics listed are standard aida colors from Zwiegart and Wichelt. Fiddlers Cloth are from Charles Craft.
All Hand-dyed fabric colors that previously were listed under this category are now under the Silkweaver tabs as that is the company who has been hand-dying the Zweigart fabric
---
---