You have a great store but it's also great to be able to sit at home, browse through your product, and order them. You have a great selection which is well organized and your mail order service is prompt and and reasonable.
Gloria Donahue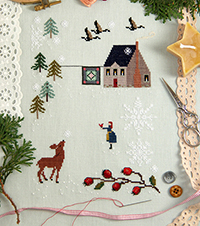 PERFORATED PAPER
Perforated Paper is a sturdy paper with holes 14 to the inch. Each package contains
2 sheets of 9 inch x 12 inch paper.
Hand Painted colors have the closest DMC floss color match in brackets after the name,
and slight color variations may occur.
Jim Shore Collection feature patterns by Jim Shore.
Stylized colors feature a marbled appearance and slight color variations may occur.
---
---