This store is jam packed to the roof with stock - books, charts, floss, beads, buttons, kits, fabrics, hand-dyed fabrics, and more. Definately worth the visit - and don't forget to look at the wall models - they are butted, side by side, , most likely over 200 +, and to top it off, they change them for different seasons and holidays. I have never been in such a well stocked cross stitch shop. There is something for everyone. If they do not have something, they will graciously order it for you.I have never been in such a friendly, and informative shop where everyone is willing to help with my needs. I know I have found my favorite shop, and will be making another trip soon.
Ellen M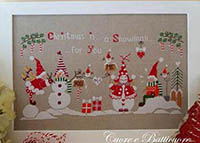 QUAKER CLOTH - 28 COUNT
Evenweave 50% Cotton, 50% Linen. Machine washable in warm water, delicate cycle. Yardage is 55 inches wide.
Special order fabics are marked with an (SO). Currently we have stock of these colors. However, these are the fabric colors that are not popular. Since Zweigart has a minimum production run, as our stock runs out, they might come back into stock as a hand-dyed solid fabric color.
---
---