This shop is incredible!!! Floor to ceiling, wall to wall, jam packed with awesome cross stitch supplies, patters, etc. Finished cross stitch pieces, crafted by the owner, EVERYWHERE!!! When I walked in, I felt like I had died and gone to cross Stitch heaven!!!!
Rachel S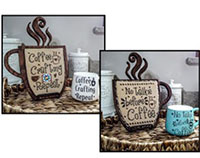 MERAN
This fabric resembles linen, but os 60% viscose, 40% cotton. Previously known as Flowerfield. Yardage is 55 inches wide.
Special order fabics are marked with an (SO). Currently we have stock of these colors. However, these are the fabric colors that are not popular. Since Zweigart has a minimum production run, as our stock runs out, they might come back into stock as a hand-dyed solid fabric color.
---
---