I just received my order in the mail today. Oh Boy! Everything is just beautiful. I recently started to do cross stitch after putting it on hold for a few years. I met a man (!!!!) in the stitchery department in ACMoore a few weeks ago, and he told me about you. Actually, he raved about your store. So, I looked you up on the internet, and took a chance. Was that man ever right! I can't wait to start stitching, if I could only decide where to start. Wish I had more than one pair of hands, but then, what woman doesn't? I'll be watching the mail for the back-ordered item. Just wanted to let you know how happy I am. I live about 35 miles northwest of you in the Lansdale/North Wales area, so perhaps I'll visit one day soon. Many Thanks,
Sophia DeLuccia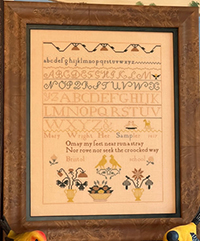 A total of 214 records matched your search.
Click on the thumbnail image for a more detailed image and information.
---
"Merejka" has been on the market of products for needlework since 2012. During this short period they have created a unique collection of kits and charts for cross stitching, which are sure to impress both novices and professionals in embroidery. Our kits are equipped with high-quality materials such as Aida or even weave canvas, DMC threads and a convenient symbol chart. These kits are from Poland - please allow 4 to 6 weeks when ordering.
| | | |
| --- | --- | --- |
| Price: $49.00 | Price: $35.00 | Price: $31.00 |
| Price: $82.00 | Price: $30.00 | Price: $35.00 |
| Price: $53.00 | Price: $50.00 | Price: $49.00 |
| Price: $46.00 | Price: $64.00 | Price: $49.00 |
| Price: $53.00 | Price: $48.00 | Price: $44.00 |
| Price: $48.00 | Price: $47.00 | Price: $39.00 |
| Price: $53.00 | Price: $78.00 | Price: $34.00 |
| Price: $35.00 | Price: $33.00 | Price: $37.00 |
| Price: $29.00 | Price: $32.00 | Price: $42.00 |
| Price: $28.00 | Price: $33.00 | Price: $29.00 |
| Price: $78.00 | Price: $47.00 | Price: $41.00 |
| Price: $62.00 | Price: $46.00 | Price: $56.00 |
| Price: $39.00 | | Price: $46.00 |
| Price: $43.00 | Price: $75.00 | Price: $47.00 |
| Price: $78.00 | Price: $50.00 | Price: $40.00 |
| Price: $53.00 | Price: $67.00 | Price: $65.00 |
---