Hello, I just wanted to thank you so much for being so honest about the reprinting of The Prairie Schooler charts. You have saved me from being further bamboozled!! I clearly am late to the game in all things Prairie Schooler, but will shamefully admit I am obsessed. I am so glad I found your shop. I will be satiating my PS obsession (along with any necessary supplies) through your shop only from here on forward. Thank you again!!
Regards, Sonja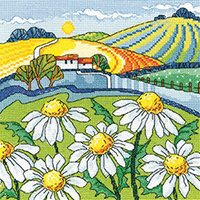 A total of 132 records matched your search.
Click on the thumbnail image for a more detailed image and information.
---
Needleart World and Diamond Dotz present this collection of kits for those who love needlework, but with a twist.
This new craft allows you to create a specular masterpiece, without stitching, Simpy follow the full color chart to place the Diamond Dotz on the charted area of the fabric which is pre-printed with a special adhesive that allows the dotz to stitch to the fabric. An easy and relaxing craft.. Each kit includes100% Polyester printed fabric, Diamond Dotz pre-sorted by shade, a stylus with a wax tip, craft tray, and instructions.
Great for children as well as adults.
| | | |
| --- | --- | --- |
| Price: $10.00 | Price: $10.00 | Price: $30.00 |
| Price: $5.00 | Price: $5.00 | Price: $5.00 |
| Price: $5.00 | Price: $15.00 | Price: $60.00 |
| Price: $50.00 | Price: $30.00 | Price: $40.00 |
| Price: $60.00 | Price: $50.00 | Price: $50.00 |
| Price: $5.00 | Price: $5.00 | Price: $40.00 |
| Price: $15.00 | Price: $30.00 | Price: $15.00 |
| Price: $13.00 | Price: $15.00 | Price: $10.00 |
| Price: $13.00 | Price: $10.00 | Price: $10.00 |
| Price: $60.00 | Price: $5.00 | Price: $13.00 |
| Price: $8.00 | Price: $30.00 | Price: $40.00 |
| Price: $90.00 | Price: $50.00 | Price: $5.00 |
| Price: $5.00 | Price: $5.00 | Price: $8.00 |
| Price: $15.00 | Price: $15.00 | Price: $15.00 |
| Price: $15.00 | Price: $15.00 | Price: $15.00 |
| Price: $8.00 | Price: $5.00 | Price: $5.00 |
---