Hello, I just wanted to thank you so much for being so honest about the reprinting of The Prairie Schooler charts. You have saved me from being further bamboozled!! I clearly am late to the game in all things Prairie Schooler, but will shamefully admit I am obsessed. I am so glad I found your shop. I will be satiating my PS obsession (along with any necessary supplies) through your shop only from here on forward. Thank you again!!
Regards, Sonja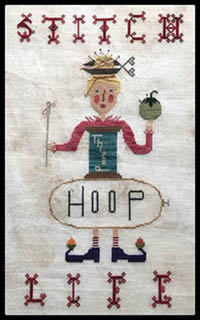 A total of 404 records matched your search.
Click on the thumbnail image for a more detailed image and information.
---
This isn't just any Dot — Needle Nanny incorporates two very strong Rare Earth magnets that promise to make it one of the most versatile and indispensable tools in your sewing kit. The magnetic back is removable, which allows it to be worn as a pin, and the powerful (and pretty!) magnetic surface acts as a needle minder to keep your needles and scissors firmly in place while you work. Even non-quilters can appreciate this clever accessory: Wear it as a magnetic pin to add a little extra flair to hats, coats, shirts, and scarves!
Needle Nannies are 1-inch in diameter. Please note that because of the specialized Rare Earth magnetic back, Needle Nannies do not fit into our interchangeable magnetic jewelry bases. Also, they are not waterproof and should never have prolonged exposure to liquids. Due to the powerful magnets, NEEDLE NANNIES SHOULD NOT BE WORN NEAR A PACEMAKER.
| | | |
| --- | --- | --- |
| Price: $12.00 | Price: $12.00 | Price: $12.00 |
| Price: $12.00 | Price: $12.00 | Price: $12.00 |
| Price: $12.00 | Price: $12.00 | Price: $12.00 |
| Price: $12.00 | Price: $12.00 | Price: $12.00 |
| Price: $12.00 | | Price: $12.00 |
| Price: $12.00 | Price: $12.00 | Price: $12.00 |
| Price: $12.00 | | Price: $12.00 |
| Price: $12.00 | Price: $12.00 | Price: $12.00 |
| Price: $12.00 | | |
| | Price: $12.00 | |
| Price: $12.00 | Price: $12.00 | Price: $12.00 |
| Price: $12.00 | Price: $12.00 | Price: $12.00 |
| Price: $12.00 | Price: $12.00 | |
| Price: $12.00 | Price: $12.00 | Price: $12.00 |
| Price: $12.00 | Price: $12.00 | Price: $12.00 |
| Price: $12.00 | Price: $12.00 | Price: $12.00 |
---