I do not think anyone has a better cross stitch site on the web. Great service too! Keep up the good work.
Debra K.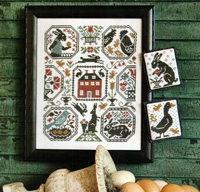 A total of 202 records matched your search.
Click on the thumbnail image for a more detailed image and information.
---
This kit company specializes in historic needlework designs.
| | | |
| --- | --- | --- |
| Price: $39.00 | Price: $20.00 | Price: $30.00 |
| Price: $19.00 | Price: $30.00 | Price: $26.00 |
| Price: $28.00 | Price: $22.00 | Price: $22.00 |
| Price: $25.00 | Price: $25.00 | Price: $22.00 |
| | Price: $16.00 | Price: $23.00 |
| Price: $22.00 | Price: $21.00 | Price: $14.00 |
| Price: $28.00 | Price: $22.00 | Price: $20.00 |
| Price: $19.00 | Price: $28.00 | Price: $21.00 |
| Price: $22.00 | Price: $22.00 | Price: $21.00 |
| Price: $18.00 | Price: $23.00 | Price: $26.00 |
| Price: $30.00 | Price: $20.00 | Price: $20.00 |
| Price: $20.00 | Price: $18.00 | Price: $19.00 |
| Price: $24.00 | Price: $18.00 | Price: $26.00 |
| Price: $20.00 | Price: $26.00 | Price: $16.00 |
| Price: $21.00 | Price: $18.00 | Price: $22.00 |
| Price: $26.00 | | Price: $21.00 |
---