I love your shop, and your website is perfect for when I can't make it over during business hours. Thanks so much...I'll definitely be back many more times!
Jennifer K. from Levittown, Pa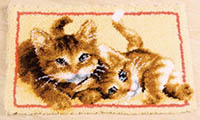 A total of 19 records matched your search.
[ 1 - 50 ]
Click on the thumbnail image for a more detailed image and information.
---
We are proud to present the "Beyond Cross Stitch" Learning Series from The Victorian Sampler, a brand new concept in educational kits! It is designed to provide an easy bridge for you to progress from stitching counted Cross Stitch to mastering those lovely specialty stitches you see in many new designs.
Each project is designed to be quick, easy, inexpensive and fun to stitch!
Clear step-by-step instructions, stitch history and background, and focus on the repetition of the stitch so that the new Specialty Stitch students really learn!
The projects can all easily be made into inexpensive gifts such as Christmas ornaments, Potpourri bags, Quilt Squares, Pincushions, Door Hangers, or Greeting Cards for loved ones, and can be given with pride and joy!
These inexpensive, quick, and pretty little kits are wonderful to give to friends and family, and if you are familiar with Specialty Stitching, you too can help teach others to learn! These kits don't intimidate any newcomer and they include all the materials you will need to finish stitching them. With encouragement, your friends will soon be having as much fun as you are!
"Beyond Cross Stitch Kits" are each packaged well, with beautifully clear full colour pictures on the cover, in re-useable zip lock bags so you can take them along as "purse-able projects"!! They are perfect to be taken with you. They are easy "how-to" kits, to stick in your purse as you head to the beach, to the cabin, on the boat, to stitch gatherings or guild meetings, in the car to have on hand while waiting for the kids, on the bus or plane, or just at home, to enjoy stitching in the comfort of your own easy chair.
Price: $10.75




Price: $10.75




Price: $10.75




Price: $10.75




Price: $10.75




Price: $10.75




Price: $10.75




Price: $10.75




Price: $10.75




Price: $10.75




Price: $10.75




Price: $10.75




Price: $10.75




Price: $10.75




Price: $10.75




Price: $10.75




Price: $10.75




Price: $10.75




Price: $10.75



[ 1 - 50 ]
---