This shop is incredible!!! Floor to ceiling, wall to wall, jam packed with awesome cross stitch supplies, patters, etc. Finished cross stitch pieces, crafted by the owner, EVERYWHERE!!! When I walked in, I felt like I had died and gone to cross Stitch heaven!!!!
Rachel S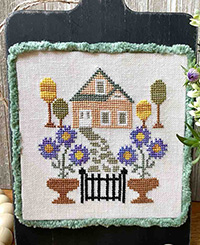 The following floss codes are provided to assist you in making your pattern selections

A=Anchor
D=DMC
C=Classic Colorworks
G=Gloriana Silk
RW=Wisper
P=Pearl Cotton
JAR=Jar Floss
GG=Glissen Gloss

K=Kreinik Metallics
I=Impressions
T=M. H. Treasures
R=Rayon Floss
M=Marlitt
V=Valdani Floss
CT=Carrie's Thread
SJ= SJ Beads/Pearls

| | |
| --- | --- |
| | WC=Watercolors |
| | WL=Waterlilies |
| | WF=Wildflowers |
| | B=Mill Hill Beads |
| | S=Sampler Thread |
| | SSS=Six Strand Sweets |
| | SW=Simply Wool |
| | SUL=Sullivans |

N=Needle Necessities
W=Weeks Dye Works
RG=Rainbow Gall. Threads
NPS=Needlepoint Silk
BS=Belle Soie
DMCV=DMC Variations
TX=ThreadworX
DD=Dinky Dyes
A total of 103 records matched your search.
Click on the thumbnail image for a more detailed image and information.
---
| | | |
| --- | --- | --- |
| Price: $11.00 | Price: $11.00 | Price: $18.00 |
| Price: $5.50 | Price: $4.00 | Price: $4.00 |
| Price: $4.00 | Price: $7.00 | Price: $11.00 |
| Price: $6.00 | Price: $12.00 | Price: $12.00 |
| Price: $15.98 | Price: $6.50 | Price: $106.00 |
| Price: $11.00 | Price: $12.00 | Price: $12.00 |
| Price: $6.00 | Price: $14.00 | Price: $9.00 |
| Price: $12.25 | Price: $7.00 | Price: $9.95 |
| Price: $12.00 | Price: $4.00 | Price: $19.00 |
| Price: $19.00 | Price: $19.00 | Price: $19.00 |
| Price: $19.00 | Price: $19.00 | Price: $19.00 |
| Price: $19.00 | Price: $19.00 | Price: $13.00 |
| Price: $8.00 | Price: $5.00 | Price: $4.00 |
| Price: $10.00 | Price: $10.00 | Price: $14.50 |
| Price: $4.00 | Price: $12.00 | Price: $13.00 |
| Price: $4.95 | Price: $51.00 | Price: $6.95 |
---