I just received my order in the mail today. Oh Boy! Everything is just beautiful. I recently started to do cross stitch after putting it on hold for a few years. I met a man (!!!!) in the stitchery department in ACMoore a few weeks ago, and he told me about you. Actually, he raved about your store. So, I looked you up on the internet, and took a chance. Was that man ever right! I can't wait to start stitching, if I could only decide where to start. Wish I had more than one pair of hands, but then, what woman doesn't? I'll be watching the mail for the back-ordered item. Just wanted to let you know how happy I am. I live about 35 miles northwest of you in the Lansdale/North Wales area, so perhaps I'll visit one day soon. Many Thanks,
Sophia DeLuccia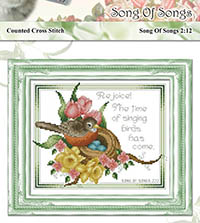 The following floss codes are provided to assist you in making your pattern selections

A=Anchor
D=DMC
C=Classic Colorworks
G=Gloriana Silk
RW=Wisper
P=Pearl Cotton
JAR=Jar Floss
GG=Glissen Gloss

K=Kreinik Metallics
I=Impressions
T=M. H. Treasures
R=Rayon Floss
M=Marlitt
V=Valdani Floss
CT=Carrie's Thread
SJ= SJ Beads/Pearls

| | |
| --- | --- |
| | WC=Watercolors |
| | WL=Waterlilies |
| | WF=Wildflowers |
| | B=Mill Hill Beads |
| | S=Sampler Thread |
| | SSS=Six Strand Sweets |
| | SW=Simply Wool |
| | SUL=Sullivans |

N=Needle Necessities
W=Weeks Dye Works
RG=Rainbow Gall. Threads
NPS=Needlepoint Silk
BS=Belle Soie
DMCV=DMC Variations
TX=ThreadworX
DD=Dinky Dyes
A total of 121 records matched your search.
Click on the thumbnail image for a more detailed image and information.
---
| | | |
| --- | --- | --- |
| Price: $8.95 | Price: $17.00 | Price: $17.60 |
| Price: $16.00 | Price: $45.00 | Price: $6.00 |
| Price: $14.00 | Price: $11.00 | Price: $9.98 |
| Price: $8.98 | Price: $14.00 | Price: $7.95 |
| Price: $5.00 | Price: $6.00 | Price: $12.00 |
| Price: $11.98 | Price: $8.00 | Price: $15.00 |
| Price: $14.00 | Price: $9.00 | Price: $19.00 |
| Price: $9.00 | Price: $10.00 | Price: $7.00 |
| Price: $7.00 | Price: $16.00 | Price: $6.00 |
| Price: $6.98 | Price: $9.95 | Price: $7.00 |
| Price: $12.00 | Price: $16.00 | Price: $10.00 |
| Price: $10.00 | Price: $14.50 | Price: $11.50 |
| Price: $17.75 | Price: $7.98 | Price: $5.50 |
| Price: $8.00 | Price: $5.50 | Price: $17.60 |
| Price: $6.00 | Price: $114.00 | Price: $13.50 |
| Price: $10.00 | Price: $17.00 | Price: $12.00 |
---