Hi! I've only had the chance to look at your website a little bit but I love it!!! It's wonderful and evident that you truly love your art. I appreciate all the color photos to look at and it makes it easy to make a list of the things that we want to look at and buy. I am so thrilled that you spent the time to make your site such a great place to visit. Keep up the good work. I'll be seeing you soon.
Lois Bruno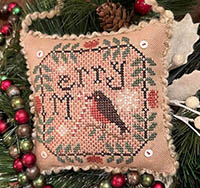 The following floss codes are provided to assist you in making your pattern selections

A=Anchor
D=DMC
C=Classic Colorworks
G=Gloriana Silk
RW=Wisper
P=Pearl Cotton
JAR=Jar Floss
GG=Glissen Gloss

K=Kreinik Metallics
I=Impressions
T=M. H. Treasures
R=Rayon Floss
M=Marlitt
V=Valdani Floss
CT=Carrie's Thread
SJ= SJ Beads/Pearls

| | |
| --- | --- |
| | WC=Watercolors |
| | WL=Waterlilies |
| | WF=Wildflowers |
| | B=Mill Hill Beads |
| | S=Sampler Thread |
| | SSS=Six Strand Sweets |
| | SW=Simply Wool |
| | SUL=Sullivans |

N=Needle Necessities
W=Weeks Dye Works
RG=Rainbow Gall. Threads
NPS=Needlepoint Silk
BS=Belle Soie
DMCV=DMC Variations
TX=ThreadworX
DD=Dinky Dyes
A total of 28 records matched your search.
[ 1 - 50 ]
Click on the thumbnail image for a more detailed image and information.
---
Price: $20.00




Price: $16.00




Price: $20.00




Price: $16.00




Price: $14.00




Price: $24.00




Price: $16.00




Price: $18.00




Price: $30.00




Price: $20.00




Price: $20.00




Price: $20.00




Price: $24.00




Price: $10.00




Price: $20.00




Price: $20.00




Price: $20.00




Price: $34.00




Price: $22.00




Price: $26.00




Price: $30.00




Price: $10.00




Price: $10.00




Price: $12.00




Price: $20.00




Price: $20.00




Price: $10.00




Price: $9.00



[ 1 - 50 ]
Choose the letter of the designers name


Now choose a designers name