This store is jam packed to the roof with stock - books, charts, floss, beads, buttons, kits, fabrics, hand-dyed fabrics, and more. Definately worth the visit - and don't forget to look at the wall models - they are butted, side by side, , most likely over 200 +, and to top it off, they change them for different seasons and holidays. I have never been in such a well stocked cross stitch shop. There is something for everyone. If they do not have something, they will graciously order it for you.I have never been in such a friendly, and informative shop where everyone is willing to help with my needs. I know I have found my favorite shop, and will be making another trip soon.
Ellen M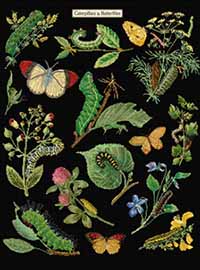 The following floss codes are provided to assist you in making your pattern selections

A=Anchor
D=DMC
C=Classic Colorworks
G=Gloriana Silk
RW=Wisper
P=Pearl Cotton
JAR=Jar Floss
GG=Glissen Gloss

K=Kreinik Metallics
I=Impressions
T=M. H. Treasures
R=Rayon Floss
M=Marlitt
V=Valdani Floss
CT=Carrie's Thread
SJ= SJ Beads/Pearls

| | |
| --- | --- |
| | WC=Watercolors |
| | WL=Waterlilies |
| | WF=Wildflowers |
| | B=Mill Hill Beads |
| | S=Sampler Thread |
| | SSS=Six Strand Sweets |
| | SW=Simply Wool |
| | SUL=Sullivans |

N=Needle Necessities
W=Weeks Dye Works
RG=Rainbow Gall. Threads
NPS=Needlepoint Silk
BS=Belle Soie
DMCV=DMC Variations
TX=ThreadworX
DD=Dinky Dyes
A total of 9 records matched your search.
[ 1 - 50 ]
Click on the thumbnail image for a more detailed image and information.
---
Price: $5.50
Sale Price: $3.00




Price: $5.50
Sale Price: $3.25




Price: $5.50
Sale Price: $3.50




Price: $5.50
Sale Price: $4.00




Price: $7.00
Sale Price: $4.00




Price: $5.50
Sale Price: $4.00




Price: $8.00
Sale Price: $5.00




Price: $5.00
Sale Price: $3.00




Price: $5.00
Sale Price: $3.00



[ 1 - 50 ]
Choose the letter of the designers name


Now choose a designers name