Tues. 10:30 am to 5:00 pm
Thurs. 12:30 pm to 6:00 pm
Fri. 12:30 pm to 6:00 pm
Sat. 10:30 am to 3:00 pm
Closed Sun., Mon., and Wed.



Welcome to our Wonderful World of Counted Cross Stitch from Ye Olde Cross Stitchery
***Celebrating our 35th Year of Business***
Located in Historic Bristol Borough, PA - The Season 2 Winner of the Small Business Revolution
NOW THE EXCLUSIVE DISTRIBUTOR OF
DIANE GRAEBNER DESIGNS & PHYLLIS BALDWIN DESIGNS

Take a minute to familiarize yourself with our products.
If we can be of service, let us know.
Our toll free number is listed above if you would like to speak to one of our employees.
We are only a phone call away and will be glad to assist you in securing what you want.
Come back often to see What's New.
If you are ever in our area, we'd love to have you stop by our shop for a visit.
Feel free to shop at your leisure as our web store is
open 24 hours a day for your convenience.
Thanks for visiting.
MARY'S MONTHLY PICS
Celebrating our 33nd Year of Business
We have always been known to carry the largest selection of
Counted Cross Stitch and Hardanger supplies in the area.
A large array of Counted Cross Stitch Books & Charts,
Zweigart & Wichelt Fabrics, Hand-dyed Fabrics,
DMC & Anchor Flosses, Hand-dyed Flosses,
Pre-Made Frames,
Just Another Button Co. & Mill HIll Buttons Buttons,
Mill Hill Treasures, Mill Hill Beads,
and just about anything related to
Counted Cross Stitch and Hardanger Embroidery.
A one- stop shop for all your cross stitching needs.

Site last modified: 02/24/2020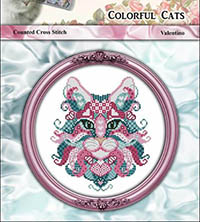 Colorful Cats Valentino
This store is jam packed to the roof with stock - books, charts, floss, beads, buttons, kits, fabrics, hand-dyed fabrics, and more. Definately worth the visit - and don't forget to look at the wall models - they are butted, side by side, , most likely over 200 +, and to top it off, they change them for different seasons and holidays. I have never been in such a well stocked cross stitch shop. There is something for everyone. If they do not have something, they will graciously order it for you.I have never been in such a friendly, and informative shop where everyone is willing to help with my needs. I know I have found my favorite shop, and will be making another trip soon.
Ellen M