Love my order, the great website, service and my free gift! I'll be ordering again!
Lisa Straits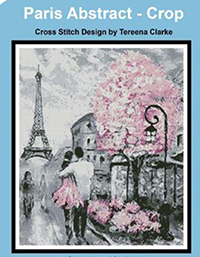 March, 2017

Hi Stitchers,
March begins with our Nashville Market being held the weekend of March 3rd to the 5th. Items being released at market appear under our Nashville Market Preview tab which can be accessed from on our home page. So far there are over 150 items listed with more to be posted in the coming days. Within two weeks, these items will be moved to our What's New section. Since I cannot attend the market this year due to the Small Business Revolution, the designers have graciously sent me information regarding their new releases. This will give you the opportunity to place your orders. They will be shipped the day they arrive in our ship. Some designers also could not attend the market, so our distributors will be handling their goods. New items include not only what is posted but also four new floss colors from Weeks Dye Works, four new fabric colors from Picture This Plus, and much more. If you want to see what is on the way - check both our What's New and Nashville Market Preview.
Each contain different new releases. We expect many of the Nashville items to arrive in our shop next week.
Here is a preview of our Latest What's New:
*LIZZIE KATE* -

Chick Party, She Believed She Could, and Celebrate with Charm - Basket

****

****

*VICKERY COLLECTION* -

Showtime Sunflowers, Thanksgiving, and Cross Of The Phoenix

**

SHOWTIME SUNFLOWERS

****

*THE SWEETHEART TREE* -

Tiny Shamrock Pin Cushion Kit, Lavender Carnation Sampler Kit,

Itty Bitty Kitty & The Honeybees, Parisian Persuasion, and Blackwork Heart

**

ITTY BITTY KITTY & THE HONEYBEES

****

*LITTLE HOUSE NEEDLEWORK*-

Sixth Day of Creation, and ABC Sampler #9 - XYZ

**

SIXTH DAY OF CREATION

****

RED PANDA KIT

****

*MY BIG TOE-

Hope and a Future, Grateful Every Day, I Found The One, and

Disturb Us Lord - The Prayer of Sir Francis Drake

**

****

*HERITAGE CRAFTS* -

Woodland Creatures - Grey Squirrel, Elegance - Lilly,
Make Your Own Dreams Happen, and Always A Bigger Fish

**

*LADYBUG DESIGNS* -

The Hat, Recital to Matisse by Nora Yuen, The Pearls, and The Clutch

**

****

*STONEY CREEK COLLECTION * -

Bird Ornaments, Stout & Lager, Christmas Sleigh in the Village. Quilted With Love - Welcome, Quilted With Love - Relax, and Quilted With Love - Live

**

QUILTED WITH LOVE - WELCOME

****

*FROM THE HEART- NEEDLEART BY WENDY* -

Happy Easter, and March Mini Sampler

**

HAPPY EASTER
Here is a sneek peek at what's to come:
NEW PLUM STREET SAMPLERS:

Hare's Hunt, and Sew Sisters

**

HARE'S HUNT

LAUREL BURCH HORSE KITS :

Mediterranean Mares, Moroccan Mares, Embracing Horses, Riviera Horses,

Wild Horses, and Mediterranean Mares


**
**THESE ITEMS WILL APPEAR ON OUR WEB SITE SOON UNDER OUR WHAT'S NEW TAB**
As many of you are aware our town, Bristol Borough, PA was in a contest sponsored by Deluxe Business called the Small Business Revolution. The winning town receives $500,000 to help market the businesses and town. A video will be made featuring six businesses and shown on Hulu and the Small Business Revolution web site. When the final five towns were chosen, our town was selected. Then the fun started. To win, everyone had to vote on-line for their favorite town, and the winner was chosen by the most votes. Since our business district had taken a big hit when the mall era started, this prize would help to market our town and bring back small business. Guess what - WE WON! Starting on March 6th Deluxe Business will be in charge of marketing our town. I want to take a minute to thank all of you who voted for Bristol Borough. It has been an exciting few days since we won with local TV coverage, newspaper articles,and rallies. To top it off, our town officials sponsored a parade and picnic celebration. The turnout was fantastic as everyone in town seemed to be there - well over 5,000 people when only 500 were expected. There was an array of food, snacks, balloon art for the children, even a duo singing and of course, a Bristol Stomp contest. What a wonderful way to celebrate the win with townspeople and business owners alike.
We read all customer comments and suggestions. Some of the changes we have made to our site were due to customer requests. We continue to be a customer-oriented shop trying to help each and every customer. If you have a question, we are always available by phone and e-mail. We respond to all correspondence. For Facebook lovers, join us on our Facebook page for up-to-the-minute information. We post on Facebook to keep everyone informed of product delays, price changes, new shop models, and new releases. Also - Remember we are only a phone call away for any questions you might have or send an e-mail. We respond to all correspondence.
Happy Stitchin' until next time,
Mary and The Staff at Ye Olde Cross Stitchery
Dates to Remember (upcoming)- Mark your Calendars
*2017 - Major holidays that we close the day before include Easter, Mother's Day, Memorial Day, July 4th, Father's Day, and Labor Day. We will also be closed the Saturday after Thanksgiving due to a Christmas Parade in our town. Christmas Hours will be announced in December.
In Shop - Holiday Framing and Sewing cut off is the weekend before Thanksgiving. No exceptions. This schedule enables our framer and seamstress time to finish your items in time for Christmas.
**Trunk shows will be posted as they are scheduled and confirmed.