This store is jam packed to the roof with stock - books, charts, floss, beads, buttons, kits, fabrics, hand-dyed fabrics, and more. Definately worth the visit - and don't forget to look at the wall models - they are butted, side by side, , most likely over 200 +, and to top it off, they change them for different seasons and holidays. I have never been in such a well stocked cross stitch shop. There is something for everyone. If they do not have something, they will graciously order it for you.I have never been in such a friendly, and informative shop where everyone is willing to help with my needs. I know I have found my favorite shop, and will be making another trip soon.
Ellen M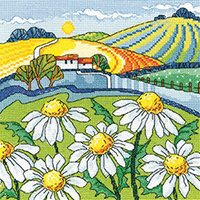 PERFORATED PAPER
Perforated Paper is a sturdy paper with holes 14 to the inch. Each package contains
2 sheets of 9 inch x 12 inch paper.
Hand Painted colors have the closest DMC floss color match in brackets after the name,
and slight color variations may occur.
Jim Shore Collection feature patterns by Jim Shore.
Stylized colors feature a marbled appearance and slight color variations may occur.
---
---