Great Store, A+ Service, Huge Inventory:This is one of the best cross stitch stores I have ever stumbled upon. There is a wide selection of products availble both in the store location and online. Their website is easy to use and search, and orders can also be placed over the phone or by fax, adding that extra level of security. The owner is VERY friendly and accommodating, not to mention HONEST (which is hard to find these days). I selected an item twice in my order and she called me to confirm whether I really wanted two or if it was a mistake. Mary went WAY above and beyond anything I would expect and the shipping was speedy and perfectly priced. A+ all around and Ithey definitely will continue to get my business!
Satisfied Customer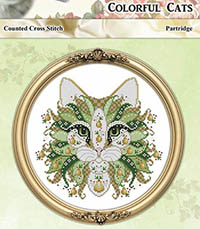 The following floss codes are provided to assist you in making your pattern selections

A=Anchor
D=DMC
C=Classic Colorworks
G=Gloriana Silk
RW=Wisper
P=Pearl Cotton
JAR=Jar Floss
GG=Glissen Gloss

K=Kreinik Metallics
I=Impressions
T=M. H. Treasures
R=Rayon Floss
M=Marlitt
V=Valdani Floss
CT=Carrie's Thread
SJ= SJ Beads/Pearls

| | |
| --- | --- |
| | WC=Watercolors |
| | WL=Waterlilies |
| | WF=Wildflowers |
| | B=Mill Hill Beads |
| | S=Sampler Thread |
| | SSS=Six Strand Sweets |
| | SW=Simply Wool |
| | SUL=Sullivans |

N=Needle Necessities
W=Weeks Dye Works
RG=Rainbow Gall. Threads
NPS=Needlepoint Silk
BS=Belle Soie
DMCV=DMC Variations
TX=ThreadworX
DD=Dinky Dyes
A total of 26 records matched your search.
[ 1 - 50 ]
Click on the thumbnail image for a more detailed image and information.
---
Price: $16.00




Price: $12.98




Price: $15.98




Price: $15.98




Price: $10.98




Price: $13.00




Price: $15.98




Price: $16.00




Price: $15.98




Price: $15.98




Price: $16.00




Price: $14.00




Price: $13.00




Price: $16.00




Price: $10.98




Price: $12.98




Price: $16.00




Price: $16.00




Price: $10.98




Price: $15.98




Price: $15.98




Price: $13.98




Price: $13.00




Price: $16.00




Price: $16.00




Price: $15.98



[ 1 - 50 ]
Choose the letter of the designers name


Now choose a designers name